Some thank you letters from families we have helped in the past…
—————————————————————————————————————————————–
Where to begin…How to start…2009 Christmas Group
…I'm writing this so that people will know that they can and do make a difference.
If we make it through December, we'll be fine – Merle Haggard
I live in California. On Wednesday, December 16th, I made it home, after a three week run, about two hours before my wife's graduation ceremony for nursing school. She's currently an LVN but after passing her boards test, she'll be an RN.
2009 has been a horrendous year. The stress of operating a failing business with direct customers paying board freight rates and little decent freight to haul, my only hope was to keep the wolves at bay until December, and my wife's graduation, when we could begin the process of rebuilding our life. Daily calls from bill collectors wanting to know why I'm not taking my debts seriously. Why I've become a deadbeat. When can they expect payment. Meanwhile, I'm borrowing money to keep fuel in the tanks and food on the table, falling further behind each week. Finally, in October, the banks requested their equipment back.
I found a place to land, on my feet, with Generic Trucking, thanks to Joey Hogrebe, a man with knowledge well beyond his years. They took a chance on a failed businessman and got me trucking again. Things are getting better. Even with a truck payment coming out I have been able to get our important bills caught up, except the house, which is in modification now. This has consumed all of our finances but we're seeing light at the end of the tunnel that is not the front of an oncoming train.
So on Friday, the 18th, I head out to deliver on Saturday and pick up Sunday for a trip to Chesapeake, VA. I deliver on Saturday, December 26th. While this obviously means I'll be gone for Christmas we were hoping to put some money together before I get back so our family can do something for the holiday.
We've wanted to be a part of the Christmas Group since I signed in to CDLofit. Money was tight last year so we couldn't donate. Money was even tighter this year, so I had no hope of participating. Boy, was I wrong…
I'm three days into a three week run when my phone rings. I'm on a call with my wife and as I don't recognize the number, I don't switch over thinking it might be another bill collector. After two numbers call that I DO recognize, I switch over to a familiar voice.
It's a conference call. I'd been nominated to receive some help from the CDLofit Christmas Group. I protested, stating that we're in recovery now and surely there was someone who needed it more than I.
They ganged up on me…Eight to one isn't very good odds when you're the one…
I accepted this wonderful gift with much gratitude. The words in my vocabulary failed to express the feelings of thankfulness that this wonderful group deserves. To the voices that reached out and brightened a cloudy Sunday, I thank you. My wife thanks you. My children will thank you after I return home and tell them this story.
Our life is in recovery mode now. We look forward to being an active donating part in the CDLofit Christmas Group for many years to come. Thank you to all who participated.
With your help, we made it through December!
—————————————————————————————————————————————–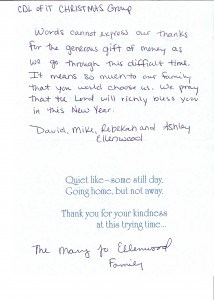 —————————————————————————————————————————————–